Like most landscape architecture firms, the studio at OvS is seldom a raucous place. Principals and staff communicate with each other and on the phone in the hushed tone conducive to an atmosphere of deep concentration.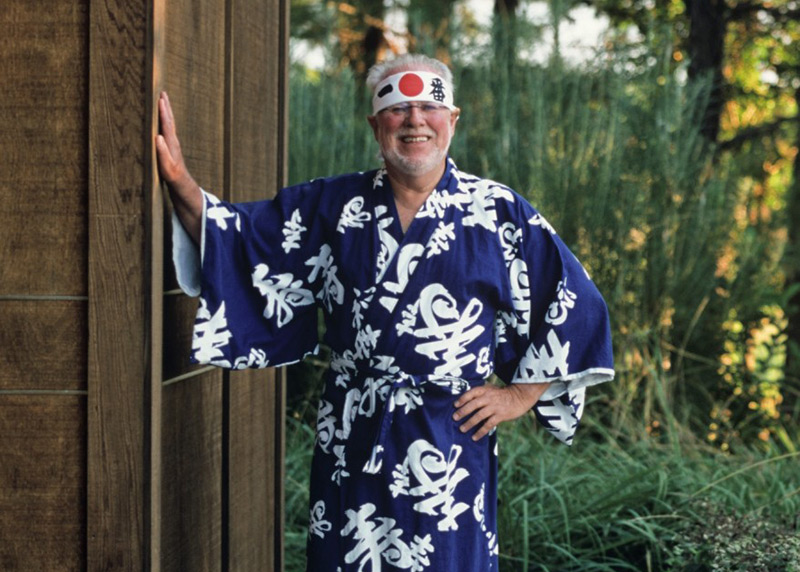 This week, though, the studio was filled with remembrances, as stories and laughter pervaded the old City Bank building at 8th and G Streets, the firm's home since 1987. The knowledge that Founding Principal James van Sweden, FASLA, has died — too soon really — after the death of co-founder Wolfgang Oehme, FASLA, in 2011, necessarily inspires memories.
Anyone who knew Jim understands he would insist that the work must go on, and will go on. There are meetings with clients, architects, community groups, and design commissions. Deadlines for projects in various phases must be met. The scion of a Dutch family who epitomized the Protestant work ethic, Jim would have demanded exactly that. Hardly a sentimentalist, his ego (and what great designer doesn't have one?) was fully engaged in the service and success of the firm.
Nonetheless, he would have loved the laughter as staff shared the wit and wisdom of James van Sweden.
"We honor him best by making our designs even more beautiful and more carefully wrought," says Lisa Delplace, ASLA. "The transition from Wolfgang and Jim to the second generation of principals was part of Jim's grand plan. Still, and I think I speak on behalf of the current principals
[Sheila Brady, FASLA, and Eric Groft, ASLA], as well as the staff who knew Jim and Wolfgang: It is difficult to lose the people who mentored you, groomed you for leadership, and who played such a pivotal role in making you the landscape architect you are today."
Brady agrees. "Jim was committed to studio collaboration" she notes. "He took what we brought to the firm and helped mold it not only in the studio, but also by encouraging us to embrace and be inspired by other art forms. He shaped our lives." Brady, who shared both van Sweden's painterly approach and love of the visuals arts, recently completed the Native Plant Garden at the New York Botanical Garden.
Groft learned the news while on a site visit to one of OvS' first major residential gardens on the sandy shores of Long Island, a client the firm has retained for more than thirty years. In November, he will be made a fellow of the American Society of Landscape Architects, but he is not thinking of the fact that van Sweden will miss seeing the green beribboned medal the Society traditionally awards. Instead, he wistfully says, "I just wish he had lived long enough to see our work at the American Museum in Britain completed. He was so excited by that project, our first commission in England — a special place in the hearts of garden lovers everywhere."
Delplace understands, having had the satisfaction of sharing with van Sweden projects she completed for long-term client Chicago Botanic Garden. Still, she says, Groft's comment underscores her point. "He would have told us to get to work. Get ready for that meeting in the conference room. And when it was over, he would have said, 'Remember to push in the chairs! Who raised you people?'" Everyone at OvS learned van Sweden's position on proper chair placement, Delplace explains. "He mentored us in ways large and small."
Those who knew Jim van Sweden recognized him not only as a gifted designer, but as a personality full of wit, wisdom and candor. Jim's personal and professional family all have that 'one' story about him (many have enough to fill a book), and this is your opportunity to share your favorite memories, stories, and quotes from Jim. Click Comments at the top of the page.