On Saturday, October 6, a group of twenty people gathered at the home of Simon and Rosita Trinca in Greenwich, CT, to remember Oehme, van Sweden founding partner Wolfgang Oehme.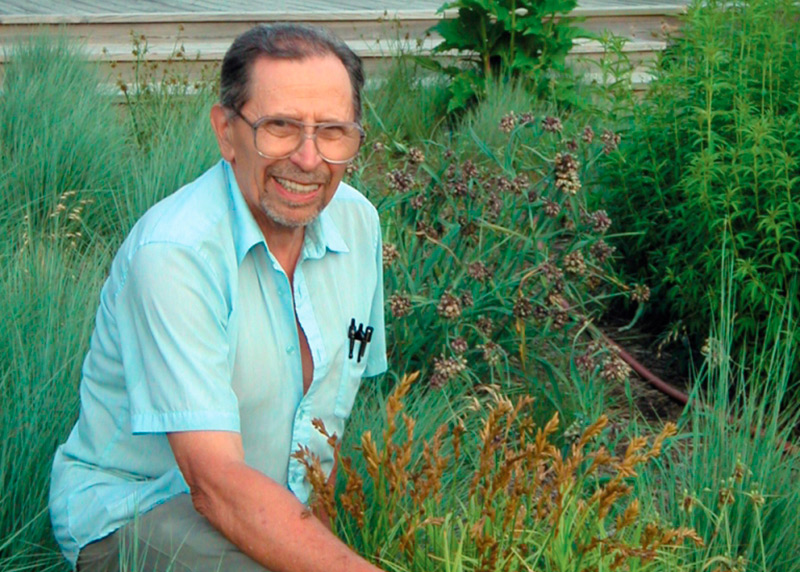 It was a warm day with change in the air. The garden glistened and glowed in early fall sunlight. In addition to Rosita Trinca and her nephew Andrew, attendees included OvS Principal Eric Groft, OvS clients Alex and Carole Rosenberg, Dierdre Major of Castagna Reality, architects Elizabeth Demetriades and Patrick Walker, nurseryman Holger Winenga, landscape contractor Jeff Jones and his wife Penny, former OvS employees Jeff Charlesworth, Martin Lucyk and Naomi Brooks, friends Paul van Meter and Tesse Dunning, and fellow Greenwich garden enthusiasts Rich and Suzie Mallick.
After drinks and canapés, the group was led through the garden by Eric Groft who gave a brief remembrance of his mentor Wolfgang: "Wolfgang was my friend, my mentor my busy partner. We traveled throughout Maryland, Virginia, Georgia, Pennsylvania, Delaware, New Jersey, New York, Connecticut, Massachusetts and Long Island. I was fortunate enough to travel to Germany with him for one of his often talked about BUGA fests in Dusseldorf a long time ago.
We worked on residences ranging from townhouse gardens in Georgetown and large waterfronts estates on the Chesapeake Bay, to horse farms in upstate New York and sandy dune scapes on Long Island's east end. In addition to residences, we worked on Commercial and Institutional projects and National Memorials. From the German American Friendship Garden on the Mall (planted on one of the hottest days in history in Washington), to the lush green golf course of Augusta National, to the soaringly contemporary, chic, haute couture shops of Americana Manhassett on the Miracle Mile of Long Island, there was no project too small or too large, too close or too far for Wolfgang to bring his art.
To say Wolfgang was passionate about plants and horticulture is an understatement. He was consumed. Be it Fargesia, Petasites, Polymorpha, Lysamachia, Phellodendron, Pteracarya, Sedum, Pennisetum, Rudbeckia, Pinus, Quercus, Acer, Franklinia, Polygonum, Datistsia, Hakoneckloa, Cladrastis, Vitex, Panicum, Sesleria, Carex, Liriope, Magnolia, Hamemelis, Erianthus, Hosta, Molinia, Chasmanthemum and Tetraplanax – they were all the paints on the pallete from which Wolfgang painted.
He touched our gardens, he touched our lives, and he filled our hearts with passion for all things green. He and Jim van Sweden have been termed the "Grandfathers of Green." When they joined forces together to form Oehme, van Sweden & Associates, green was just a color and sustainable was not a "brand." What Wolfgang advocated was simply doing the right thing – changing the texture of the ground to provide four seasons of interest, to blow in the wind, and to provide fragrance in our lives. He did it with passion and power. It was a "shock and awe" landscape event to see him lay out a garden. No one worked harder than our Wolfgang in the garden. There were no twosies or threesies for him – he painted with a broad brush a thousand of this and a thousand of that.
This event all came about from an occasion this summer when Simon and Rosita and I met for dinner and I relayed to them a story that took place here in the garden. Jeff Jones was the contractor and we were all offloading plants – including aquatic plants for the lily pool – early one morning in Greenwich some 20 years ago. Jeff looked startled. He said, 'Eric, you better get back to the lily pool and check on your leader.' When I got back there, Wolfgang was stripped down to his underpants and was in the process of taking them off! 'Wolfgang,' I asked, 'what in the world are you doing?!' He looked up and said 'vell, I always plant the vater garden naked!' I replied 'Well not in Greenwich you don't.' And with that, he put his clothes back on and we planted the water garden.
Wolfgang was asked by David Lily, President of the Board of Governors of the Federal Reserve to go to Augusta National and bring more horticultural interest besides the three weeks of colorful azaleas that they are known for. I accompanied Wolfgang down to Augusta to do our field reconnaissance and much to my horror (being a "son of a Marine" and golfer), Wolfgang charged across the greens and fairways with total disregard to the golfers playing. Wolfgang was not one to adhere to rules. In fact, he cherished breaking them – perhaps because of his upbringing in Germany as a Hitler Youth, then a Young Communist in East Germany before immigrating first to England and later the United States. His quest was freedom, independence and all things green.
Wolfgang was a once in a lifetime character. He made all our lives more meaningful, colorful and wonderfully whacky. He will be missed.
I am pleased you all made it here today and I would like to ask each of you to think of a personal story about Wolfgang and share it with us." Wolfgang touched the lives of so many people near and far. If you would like to share your thoughts and memories, please do so by leaving a comment, below.