Alexandre de Vogue, Co-proprietor and fifth generation owner of Vaux le Vicomte, presented an intimate talk on the famous chateau outside Paris as part of the Series at the New York Botanical Garden in the Bronx on February 19, 2015. This year, the Lecture Series focuses on Le Jardin Francais or, The French Garden.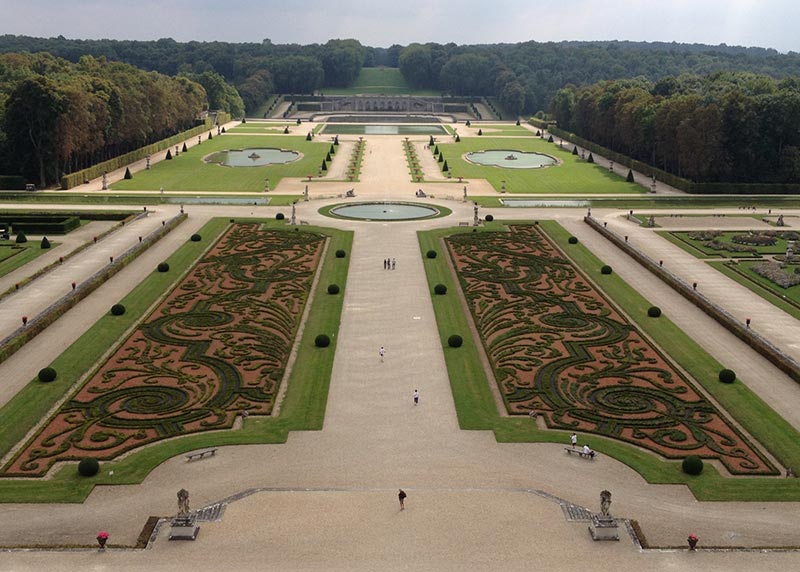 This chateau and garden were the first, and perhaps the most important, collaboration between Andre Le Notre, the famous 17th Century Landscape Architect; Le Vau, an architect; and Le Bron, an artist and interior designer. Alexandre spoke of the importance of close collaboration between these design professionals, which stands as the model of collaborative spirit to this day, and is certainly inspirational for us here at OvS.
He further expanded on the intrigue surrounding the arrest and imprisonment of Nicholas Fouguet, the original owner of Vaux, who brilliantly brought together the three "L's." According to local legends, Fouguet, then Finance Minister of France, threw a party – or "fête" – and invited King Louis the 14th and his court. After the party ended, the Sun King ordered Fouguet to life in prison for spending the money of the government, and of the king, illegally.
King Louis then commissioned Le Notre, Le Vau and Le Brun to design and build his vast palace of Versailles – at approximately four times the size and magnitude of the chateau Vaux. Apparently, the sinister Colbert had been scheming for months ahead of this grand moment, searching for ways to get rid of Fouguet for political reasons – an interesting twist to an old legend.
OvS Principal Eric Groft accompanied a group of OvS clients, collaborators, and friends to the lecture, including Barbara Slifka, Judy Martin, Leslie Close, Julie Sakellariadis, John Danzer and Jeff Jones to the nearly sold out lecture.
Prior to the lecture, Eric attended a dinner hosted by Alexandre de Vogue and his mother Cristine at the Knickerbocker Club in Manhattan. In attendance were Charlotte Moss, Martha Stewart, Dan and Esty Brodsky, Andrew Saul and Daisy Soros, along with Gregory Long, President of NYBG. A splendid evening indeed!