In the last several weeks, OvS Senior Associates Marisa N. Scalera and Hilary Oat-Judge have joined the New York Botanical Garden's horticulture staff in final planting visits in anticipation of the opening of the new Native Plant Garden.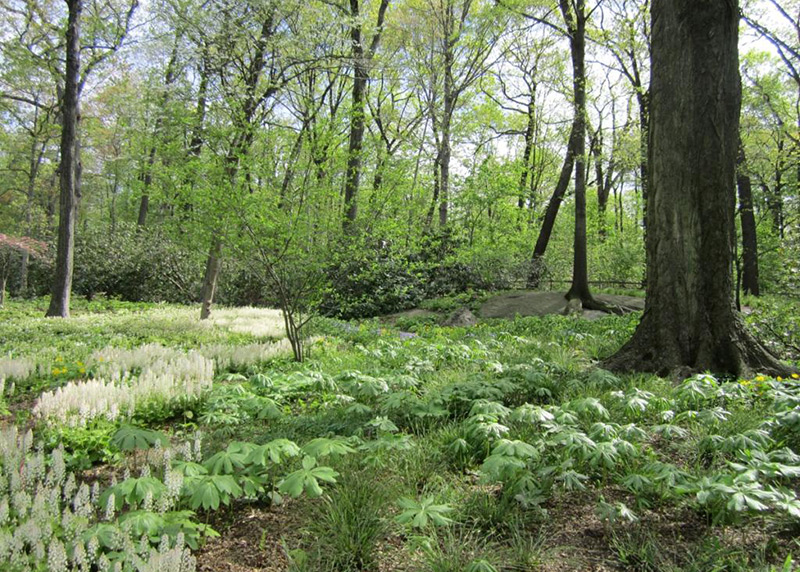 The Native Plant Garden is planned as a showcase of the beauty and diversity of native plants of northeastern North America, and, from the beginning, NYBG has been committed to unveiling a mature display of plants at the Garden's opening. Therefore, plant installation has been a phased, multi-year process, beginning in the spring of 2011, and each area has been planted as soon as hardscape construction phasing allowed.
One of the final areas planted was the garden's entrance, which features the Entrance Pavilion, designed by Hugh Hardy and John Fontillas of H3 Hardy Collaboration Architecture. A geometric grove of single-stem Magnolia virginiana (Sweetbay Magnolias) frames the pavilion and provides a transition from the modern structure to the dramatic sweeps of spring ephemerals, ferns, and sedges carpeting the woodland beyond.
The Native Plant Garden's opening date was selected in part to highlight the Garden's extensive collection of spring ephemerals planted below existing mature canopy trees. Though few plants had emerged on OvS' planting visits several weeks ago, we look forward to witnessing the transformation that warmer weather and spring rains inevitably bring to the garden.