Casey Trees has named Oehme, van Sweden recipient of the inaugural Casey Trees Canopy Design Award. The award, part of Casey Trees Canopy Awards, will be presented on Thursday, April 23 at Union Market's Dock5 in Washington, DC.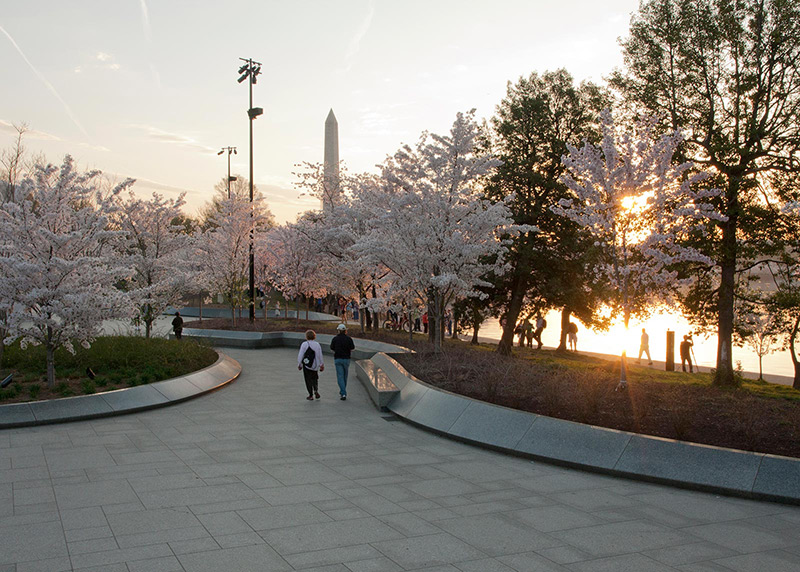 The Canopy Awards are an annual tribute to the accomplishments of those working to highlight and protect Washington, D.C.'s tree canopy and is aimed at raising awareness of the importance of trees in our urban landscape.
The award honors OvS' work on the Martin Luther King, Junior National Memorial, which proudly honors Dr. King's achievements, highlights the Tidal Basin's Yoshino cherry trees (a gift to the U.S. from Japan in 1912) and also provides tree canopy coverage to shade pedestrian access areas.
Consistent with OvS' core philosophies, the landscape design for the memorial demonstrates sustainable design practices, adds 182 new cherry trees, and addresses the site's soil challenges, including compaction and poor drainage.
If left uncorrected, these challenges would have significantly limited plants selection and restricted trees from reaching their full, mature sizes. To avoid these problems, OvS installed Silva Cells around nine new American elms planted along West Basin Drive. Silva Cells are modular, suspended pavement systems that use soil volumes to support large tree growth and provide powerful stormwater management through absorption, evapotranspiration and interception.
The resulting suspended pavement system will allow these elms to reach their full planned arching canopy of 40 feet.
The jury was impressed with 'how the site blended into the landscape around it, the use of soil cells to improve the rooting volume of the American Elms, and finally, the use of the iconic cherry trees to link the past to the present.'