OvS Principals Eric Groft and Sheila Brady attended the New York Botanical Garden's annual Antique Garden Furniture Preview Party this past week.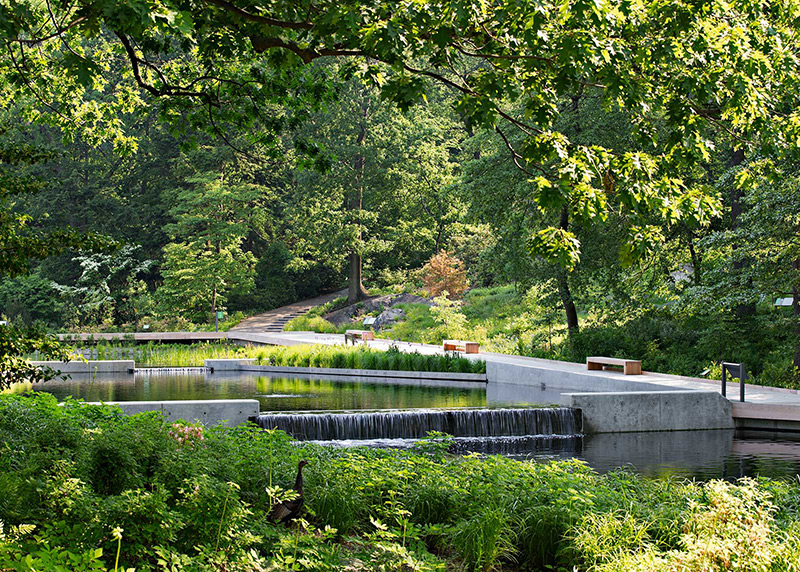 The party, which took place the night before NYBG's event The Antique Garden Furniture Fair: Antiques for the Garden and the Garden Room was a beautiful display of rare and specialty plants and antique pieces of classic design.
Prior to the start of the Preview Party and Collectors Plant Sale – the country's original, largest and most important venue for authentic garden antiques, Mr. Groft and Ms. Brady – accompanied by their clients Jeremy Kramer, Becca Davies, Susan Harris and Nancy Laperla Bemis – went on a tour led by Todd Forrest, NYBG's Director of Horticulture – of the NYBG Native Plant Garden.
Along the way, he noted specific plants such as the Iris Gerald Draper, the Amelanchier Canadensis (serviceberry) and the emerging fiddlesticks of Osmunda Cinnamonea (cinnamon fern). These plants were selected by OvS – designers of the Native Plant Garden – for their biodiversity, sustainability and adaptability.
It was a crisp evening; snow squalls had engulfed New York City earlier in the day, and though they ridded the city of any springtime warmth, they did nothing to curtail the excitement of the event's attendees, including enthusiasts of antique garden furniture, horticulture, and garden lovers from around the nation. Some of the evening's more notable attendees included Martha Stewart, Sigourney Weaver and Bunny Williams.
Ms. Williams, content among the colorful plants that represented some of horticulture's finest growers – including Japanese maples, Itoh peonies and other perennial, held a book-signing, displaying her newest book On Garden Style.
Bunny's book of style and sophistication brings forth the idea that gardening with finesse is out of reach for no one. She shows how to think about the context of the garden and its surrounding landscape, the textures of its foliage, and its holistic pattern. This book is essentially a garden-design style handbook, with practical content and featured gardens.
Of the gardens in the book, five have been designed by OvS: Ferry Cove in Sherwood, Maryland; a coastal retreat on Pine Island, South Carolina; an historic Riversville Road property in Greenwich, Connecticut, as well as properties in Bridgehampton, New York and Chestertown, Maryland.