Under last week's clear skies and cool fall-like temperatures, Oeme, van Sweden principal Sheila Brady and Senior Associate Marisa Scalera assisted the New York Botanical Garden's horticulture staff in laying out 5,000 perennials and grasses in the Wet Meadow at NYBG's new Native Plant Garden.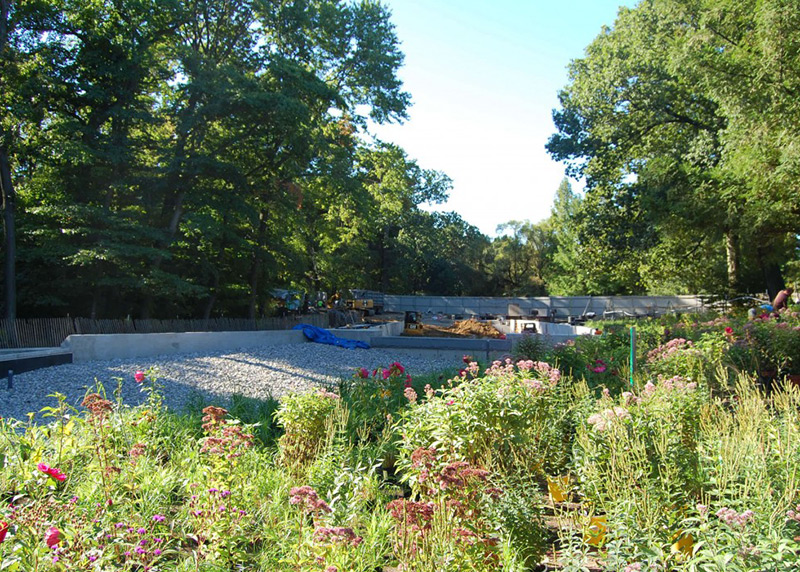 The tall, boldly colorful, textural perennials highlight the biodiversity of the New York region's native wet meadow ecosystems.
Sheila and Marisa also revisited the Ridge and Mesic Meadow plantings that were installed last summer. The Ridge is a spine that runs along the highest elevations of the meadow and features a gentle slope and dry soils. Low grasses, such as Sporobolus heterolepis and Schizachyrium scoparium, are dominant. The restrained, visually simple palette emphasizes the sculptural beauty of the site's rock outcroppings.
The Mesic Meadow is a showy display of textural grasses and perennial accents. Meadow blooms rotate from early summer through fall to form a complex tapestry of colors and textures. Though many of our native meadow grasses are warm-season, the Mesic Meadow also incorporates cool-season grasses, such as Deschampsia caespitosa, D. flexuosa and Calamagrostis canadensis, since they start their growth early in the spring and provide volume when much of the meadow still lies dormant.