The Washington, D.C. chapter of the American Institute of Architects (AIA) presented the 2014 Award of Excellence in Urban Design/Master Planning to the Eastern Market Metro Park – recognizing the park's potential design as one of the most notable works across the D.C. region.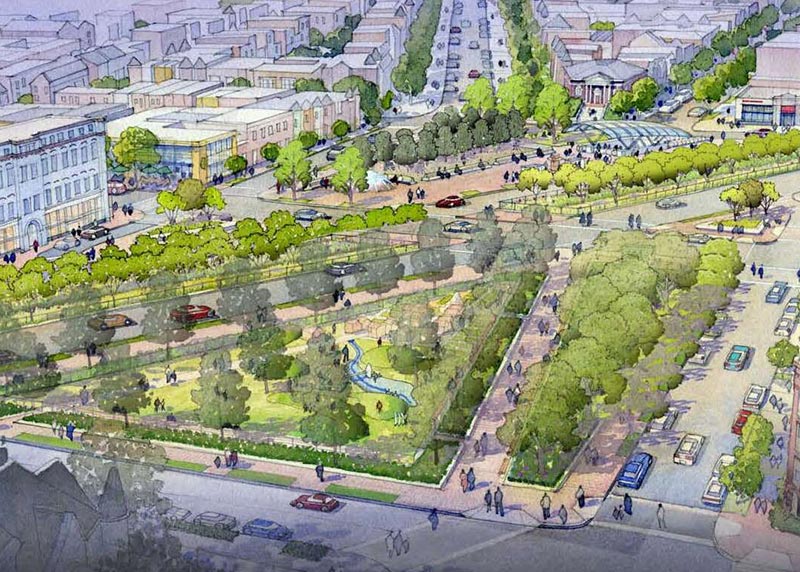 The Eastern Market Metro Park – designed by Architect Amy Weinstein of Esocoff & Associates and Landscape Architect Lisa Delplace of OvS – brings life to what is currently nothing more than desolate green space alongside Pennsylvania Avenue between 7th and 9th Streets, SE.
The landscape designs include fountains, play areas for children and adults, site amenities including historically-appropriate wrought iron fencing and public art installations. In addition, landscaped bioswales will capture and manage stormwater runoff from the Pennsylvania Avenue roadbed and planted rain gardens will prevent additional runoff. The overall design emphasizes safety, functionality, and minimal maintenance.
The Eastern Market Metro Park project dates back to the summer of 2013, when the Barracks Row Main Street (BRMS) initiated a new design study and transportation management plan to improve the public space along Pennsylvania Avenue, SE, between 7th and 9th Streets, including the area around the Eastern Market Metro Station. The overall goal of the Park/Plaza design study was to renew and upgrade the publicly owned land in the 700 and 800 blocks of Pennsylvania Avenue from both a functional and an aesthetic standpoint.
The planning process for this project encompassed eight community meetings, four Task Force meetings, two alternate plans, and thousands of community comments. The resulting design has now been incorporated into the Master Plan for the area following community presentations June 21 and 23, 2014.